2005-2019 Tacoma Hammer Hangers Shackle hangers SOA+SUA TRD Pro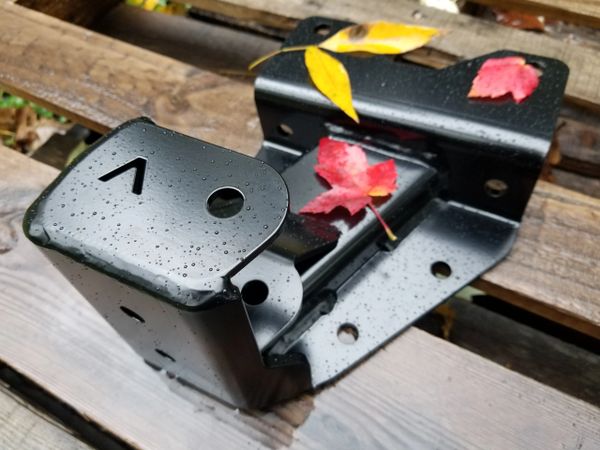 2005-2019 Tacoma Hammer Hangers Shackle hangers SOA+SUA TRD Pro
TacomaWorld.com forum members eligible for $20 discount, please message ARCHIVE on TW for coupon code before you buy
Orders for this batch automatically entered for chance (~1 in 40) to win hangers portion refunded, options not included.
Hangers in progress, ~4 week lead.  Shackles + Cross tube lead time 5 weeks
Free Priority 2-3 day shipping in 50 States, HI, AK, PR, Guam (1 week).  Canadian customers add ~$60 USD, please contact before buying.

Your purchase supports a growing design and fab. company which helps us bring you new quality U.S. made products. 
Archive Hammer Hanger discussion on TacomaWorld ---> Thread
Details: 
-Noticeably improved ride quality, increased travel capacity (up to 14"), and designed to glide over rocks and take abuse.  These should be the first mod on a brand new Tacoma, because flimsy stock hangers are the Achilles heel of the Tacoma and cause of the annoying Tacoma rear jitters.  Address the root cause!  You could spend thousands on rear shocks and springs and still have that annoying jitter, start here first!  
- Compatible with Spring Over Axle (SOA) trucks from completely stock to fully built, improved geometry to help shackles drop out (with aftermarket springs).  No other mods are required to run these hangers
- Compatible with Spring Under Axle (SUA) conversions (see here: HD Deaver U539/540) but requires the 4.5" shackle option (for extra droop and so you don't have to stretch the spring back). 
-Height with stock 3.4" (or 3.6")  shackles will be max ½" lift.  Height with 4.5" shackles would be about equal to stock hanger/shackle.
Hanger kit includes:
(1) Right hand & (1) Left hand hanger, laser cut and CNC bent 1/4" A572 50,000psi plate structure, fully MIG welded.  (Powder coated with zinc base prime and semi-gloss black top coat)  
(4) M14 Class 10.9 (Grade 8 equiv) shackle bolts and lock nuts (fit in OME Dakar bushing sleeves)
(8) 1/2" Grade 8 flanged frame bolts and flanged lock nuts   
Designed with factory rivet bolt pattern, but requires drilling out factory rivets thru to ½" 
Written instructions provided.  Longer brake lines ~24"-26" (20" stock) are required if you have longer shocks.
Trimming of exhaust tailpipe may be required 
Shackle Options:
-Stock shackles (3.4") and OEM rubber bushings are fine for SOA and should accommodate 10" travel.  
-Select high quality poly bushings/sleeves for the stock shackle for 11"-14" travel (must remove the stock metal/rubber bushings)
-3.6" shackles fabbed from 3/16" steel, 1/4" wall DOM tube, quality poly bushings & grease fitting.
-4.5" shackles fabbed from 3/16" steel, 1/4" wall DOM tube, quality poly bushings & grease fitting.
(4.5" shackles will work with any spring, but may not drop out fully with longer SOA packs.  4.5" shackles required for SUA)
Cross Tube Options (*Requires the spare tire be relocated*):
-The cross tube option is 1.75" OD x .120 wall steel w/ 1/4" flanges, powdercoated, and includes hardware and 50 state/Guam priority shipping. The cross tube DOES add an additional improvement in ride quality (~10-20% of hanger improvement), because it connects the 2 hangers and frame rails together which adds torsional rigidity.  This also protects the frame from stress applied to it when one hanger drags.
-If you want to build your own cross tube, I offer the (2) bolting flanges and (4) bolts.  No warranty with this option
If you have any questions, please contact Eric or email archivegarage.com@gmail.com

Reviews