2005-2018 Tacoma Shock Relocation Towers 2.5 x 14 in or 12 in mid travel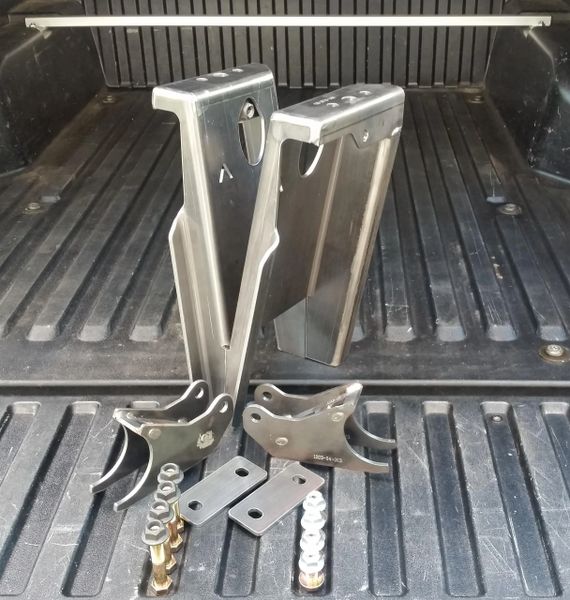 2005-2018 Tacoma Shock Relocation Towers 2.5 x 14 in or 12 in mid travel
Sept 18 2018-Current lead time: 
please allow
1 week
to ship.
$20 priority shipping 2-3 day delivery in States, Guam 1 week
-TacomaWorld members eligible to receive $20 discount, please message Archive on TW for coupon code beforehand.
Your purchase supports a growing design and fabrication business so Archive can bring you quality US made products. 
Details:
-Please note this kit requires a wider than stock rear setup, so a great complement for +2" Long travel front arms
-The only kit available 
to fit 2.5" x 14" travel 
without cutting the bed (2 holes drilled in 
bed shelf per side 
for towers).
-This "under bed" kit allows bolting to bed for more frame rigidity than other kits, plus a cross bar 
can be fit
to lock out the frame rails from rotating inward.
-Laser cut from 3/16" steel and CNC brake-formed towers for toughness without warping.
-Axle mounts (included) have gusset for stability that connects to axle tube to combat force under compression. 
-M
ounting tabs sized for standard rod-end shocks (1
.5" wide, 1/2" bolt) 
from King and Fox 
-Designed to fit
2.5" body shocks
, 
Fox 980-02-103 or
King PR2514-SS 
(23.25" comp/37.25" extended) 
14"
 travel 
or 12" travel smooth body 
with 
hose remote reservoir 
-Shock ordering: Fox 14" shocks should be ordered with 1" shorter lower rod end (12" are OK with long rod end).  
-Remote hose with straight fitting works best
-For shock sales and tuning, Accutuneoffroad.com is highly recommended, 
Phone: (424)-377-0808
-piggy back reservoir locations will 

not

 work with these towers.
-King 2-tube and 3-tube bypass with remote resi will fit

with tubes forward towards engine

, and remote resi hose rearward
-Fox 
3-tube bypass with remote resi will fit 
with tubes forward towards engine
, and remote resi hose rearward (requires custom order- call Accutune Offroad, 
Phone: (424)-377-0808
) 
-
With bypasses:

 trucks with no
 lift or SUA might need 12" travel because shock piston at normal ride height needs to be below compression tube port(s)/zone(s) 
-Requires 
1.
50" 
wheel
spacers with 4.75" backspacing for smooth body or King twin 
bypasse
s
2-tubes 
forward.
-Ideal 3.5 or 4.0" backspacing wheel with 1.25" spacer.  

Tire rubbing may be an issue otherwise
-For Tacoma owners with spring under axle (SUA), you may be able to increase uptravel and the axle shock mount would hang 
about same height as stock shock mounts, and 
should not hang lower than the SUA spring packs.
-For most Tacoma owners with thick lift springs over the axle like stock, u-bolt flip and tall bumps, you may be able to have the lower axle shock mount about flush with the lower quadrant of the axle (better clearance than stock).
-2.0 x 14" shocks are also a good option for general off road use, because you get the added travel but the length of 2.0 is shorter than 2.5 for same travel.  
Note:2.0 with 7/8" shaft is not an ideal performance shock (piston area, 5/8" is better.  O
rder with 1.5" wide bushings or add (2) 1/8" washers if 
1.25"
) 
Contact archivegarage.com@gmail.com for more information, you should receive a response in 24 hrs or less
Reviews