Toyota Spring Under Axle conversion kit 2nd & 3rd gen Tacoma 2005-2017 - 1st gen Tundra 2000-2006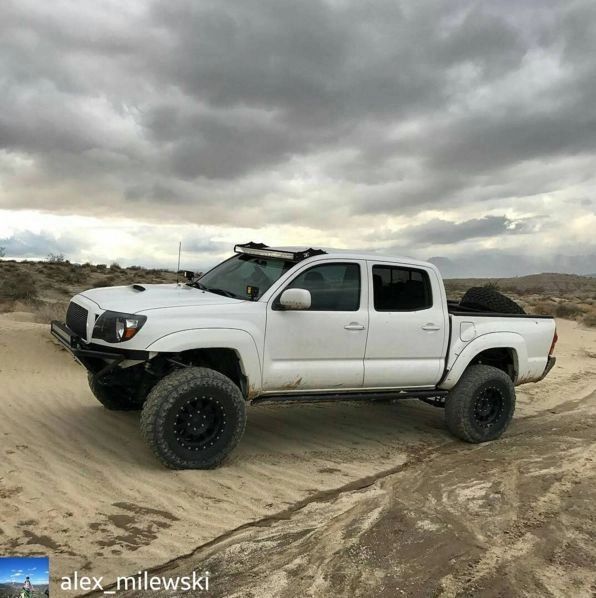 Toyota Spring Under Axle conversion kit 2nd & 3rd gen Tacoma 2005-2017 - 1st gen Tundra 2000-2006
TacomaWorld.com forum members eligible for $20 discount, message member ARCHIVE on TW for code before you buy
 (2) Option #2/3/4, (1) Option #5 powdercoated and available.  

FREE Priority 2-3 day shipping in States, PR, Guam (1 week).  Canadian customers contact before buying.
Your purchase supports a growing design and fabrication business which helps Archive bring you new quality US made products. 

Archive has developed an affordable SUA conversion kit.  
Initially designed for 
Deaver SUA HD U539/U540 (L&R) 
spring 
packs used on 2nd and 3rd gen Tacomas.  This design
 retains the stock perches (required), but makes for a simpler installation.  
A great combination with the Archive Hammer hangers or Shackle Flip.  
(2) 1/2" thick 
upper U-bolt plates, made from A588 HSLA 50ksi steel.  
Plates have locating pin welded in to engage OEM spring perch (don't cut stock perches off!)
(4) HD 9/16" square U-bolts
(2) Archive SUA specific spring
perches
2.375" 60mm wide
 for under the axle which must be welded in (drain axle oil)
(2) 304 stainless 1/4" thick lower U-bolt saddle plates which 
conform to spring arch, and 
feature good ground clearance 
-Option 1: Bare 1/2" U-bolt plates, no pedestal or bump landing pad
-Option 2: 3.25"OD P
edestal mount for thread in bumpstop, with 3/8-16 nut welded in, no bumpstops
-Option 3: 3.25"OD 
P
edestal mount for thread in bumpstop, with 3/8-16 nut welded in, with 2" tall black poly bumpstops
-Option 4: 
3.25"OD 
P
edestal mount for thread in bumpstop, with 3/8-16 nut welded in, with 2.7" Wheeler's Super bumps
-Option 5: 
1/2" U-bolt plate with hydraulic/air bump landing pad (plus shape) 
welded
 to 3/4" tall tube on top of 1/2" plate
-Other custom options: call
Contact archivegarage.com@gmail.com for details or questions
Reviews