2005 - 2019 2nd & 3rd gen TACOMA Premium Shackle Flip Lift Kit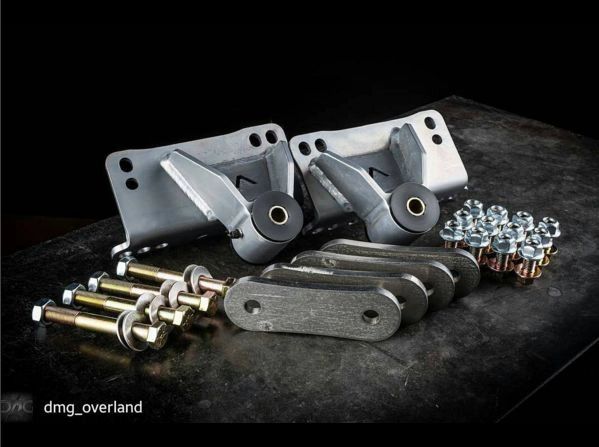 2005 - 2019 2nd & 3rd gen TACOMA Premium Shackle Flip Lift Kit
TacomaWorld.com forum members eligible for $20 discount, message member ARCHIVE on TW for code before you buy
Current lead time is 6 WEEKS    Please investigate Hammer Hangers before choosing Shackle flip
Zinc-nickel  plating (silver) + sealer hi-performance corrosion protection is now standard
$20 Priority 2-3 day shipping in States, HI, AK, Guam.  Canadian customers please contact before buying to discuss shipping.

Your purchase supports a growing design and fab. business which helps us bring you new quality US made products. 

Archive Shackle Flip discussion on TacomaWorld ---> Archive Garage Premium Shackle Flip
Shackle Flip with SUA springs update---> Flip with New Deaver SUA
Details: 

-Converts your truck to the toughest shackle arrangement like the Hilux (Taco hangers bend all the time)
-Generally contributes to a more compliant ride, and reduces inherent rear chatter due to stock flexy hangers, but some heavier loaded trucks report a firmer ride with flip as springs flatten out and begin to contact overload leaves.  Changes the installed rate of springs in a beneficial way to increase side to side flexibility for crawling  
-Compatible with Spring Under Axle (SUA) conversions (see here: HD Deaver U539/540 and Flip with New Deaver SUA) You may need to drill 4 new holes in each frame rail to get enough shackle angle (~45deg) for 12"+ travel, due to springs curling up to short eye to eye length. 
-Brackets now have the 2 original bolting positions 3/4" [19mm] apart for appropriate shackle angle, plus new extra holes to allow ~45 degree shackle angle with shorter length Old Man Emu Dakar springs, which requires you to drill 4 new holes in each frame rail.
-Estimated lift range with aftermarket springs and 4" shackle is 1.0" [25mm] to 1.5" [40mm], depends position and spring packs. 
-Not recommended for use with completely stock spring packs, unless used in conjuction with Add-a-leaf, preferably the 3-leaf progressive kits.  Reason: my DCSB went from negative arch with stock hanger to a slight positive arch with the shackle flip, the gain in arch resulted in a little more axle wrap with stock 3+1 springs because the pack lifted off the "overload" thick leaf, Toyota apparently designed as active part of the spring pack during everyday operation even unloaded.
-4.75" shackles may add approx. 1/2" of extra lift over 4" (Note: spacing bumpstop is highly recommended)
-Great way to lift 05-15 5-lug trucks! Customer Review "The ride is honestly amazing...In my opinion, this shackle flip just made a world of difference and gave me the ride height I wanted!"

Premium Kit includes:
(1) Right hand & (1) Left hand bracket, laser cut and CNC bent 1/4" structural domestic plate, 1/4" wall DOM tube, fully MIG welded.    Supplied with quality greasable poly bushings, DOM sleeves, replaceable zerk fittings and caps installed in brackets.  Brackets are zinc-nickel plated for good corrosion resistance.  
(4) Attractive 3/8" thick domestic 304 stainless steel shackles 4.0" hole to hole are standard. (18% longer than stock)
(4) 9/16" [14mm] Grade 8 shackle eye and leaf spring eye bolts, washers and hardened lock nuts
(8) M12 Class 10.9 (Grade 8 equiv) frame bolts and all metal lock nuts supplied  
Written instructions provided
Designed with factory rivet bolt pattern, but requires drilling out factory rivets thru to ½" (See DBK-001) only $20
Requires trimming exhaust tailpipe!  
Longer brake lines are required, stock are 20" overall, 26" are available from DMZ Fab, 24" from wheelers offroad

Longer shocks are required.  Bilstein B110 are a decent quality option for ~$200/pair for the stock mounting locations.  Extended length should be min 25", but if you have 3" lift, somewhere around 27-28" extended allows nice flex, but you have to watch your bump travel so you don't bottom out shocks, which may require spacing your bump stops.
If you have any questions, please email archivegarage.com@gmail.com
Reviews