Premium Shackle Flip Lift Kit 1989-1993 Dodge Cummins, 72-93 W250, 350, Ramcharger 74-93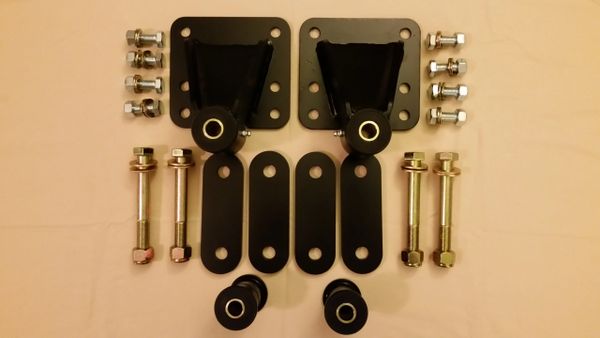 Premium Shackle Flip Lift Kit 1989-1993 Dodge Cummins, 72-93 W250, 350, Ramcharger 74-93
Please allow 4-5 weeks before shipping
**Going forward, the shackle flip will be supplied with 9/16" bolts like Chevy 3/4 & 1 tons (not 5/8")**
Your purchase supports a growing design and fab. business which helps us bring you new quality US made products. 

FREE Expedited Priority shipping is standard in the states.  Canadian customers please contact before purchasing.
Designed and made in Buffalo, NY USA, this kit will let your rear suspension flex, and soften the harsh ride.  The ride will still be firm and supportive, but will help soak up hard impacts and harsh bumps.  I estimate this will provide about 3-4" of rear lift.

Lift Hanger option (Details here) is recommended for best geometry and a total of approximately 5" lift.  Add option above for discount when ordered together ($540 + $20 shipping, Saves $40 total off shipped price)
Premium Shackle flip Kit includes:

- (2) Stout I-beam design shackle brackets in 1/4" structural domestic steel and 1/4" DOM tube (fully mig welded) 
- (4) 3/8" thick steel shackles 4.0" hole to hole
- (4) 9/16" bolts like Chevy 3/4 & 1 tons (not 5/8") Grade 8 shackle and leaf spring pivot bolts, washers and lock nuts. 
- (8) High quality greasable poly bushings for brackets and your leaf spring (1 1/2" ID typical, Chevy sizes available).
- (4) High quality DOM ~.090" Wall Zinc Plated Steel Bushing Sleeves
- (8) 1/2" Grade 8 bolts, hardened washers, and all metal lock nuts supplied  
-Written instructions provided
-Designed with factory rivet hole pattern, requires drilling of factory rivet holes out to 1/2" See DBK-001
-Other brands require up to 12 new holes drilled in high strength steel frame
-Will not interfere with receiver hitches like some other brands

-Please be aware with just the shackle flip, you may need to use a relocation block or EZ inch block to slide your axle rearward up to 1" and perhaps axle angle shims (or remove/rotate 180* the angle shims from aftermarket lift springs) 
If you have any questions, you can contact me by phone/text 716-310-5281
Reviews