1st Gen Dodge Front Frame Shackle Hanger kit W150 W250 W350 Cummins Ram Ramcharger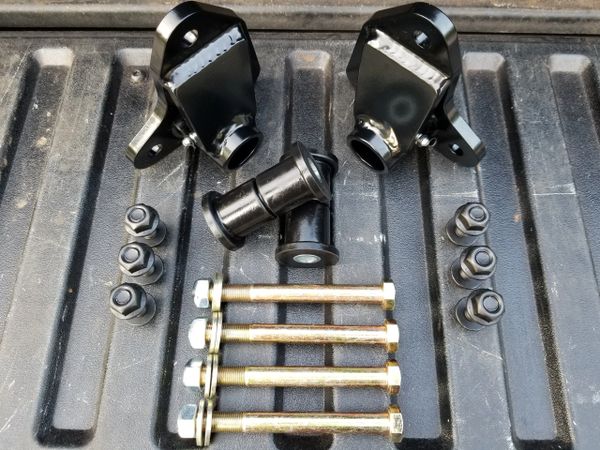 1st Gen Dodge Front Frame Shackle Hanger kit W150 W250 W350 Cummins Ram Ramcharger
 Lead time 4 weeks- welding more 
Powdercoated and made from 3/8" plate for extra toughness!  
Video----> Archive Garage Front Shackle Hangers

Your purchase supports a growing design and fab. business which helps us bring you new quality parts made in USA. 

FREE Shipping by Priority 2-3 day in States  (Canadian $35 PayPal request sent after sale).
Archive premium front frame shackle mounts for 4WD Dodge trucks and Ramcharger up to 1993, also to convert 2wd to 4x4  
Easy install without taking body parts off your truck.  Simply grind off the stock rivet heads on outside of frame, punch out the old, grind just a hair (~1/16") off top of frame hole, and bolt in your new Archive frame shackle mounts.  Install in as little as 2-3 hours.  4.5" grinder required for install. These fit without drilling out original rivet holes (if you select 7/16 frame bolts) and NO HOLE SAW REQUIRED for the shackle tube to fit like another brand does. On my 1991 W250 and a customers 1992 W250, the factory frame shackle hole required only 1/16" ground out from top of frame hole, since it is deformed from stamping.  If you're looking to convert to 4x4, there is an optional template to clamp and drill your 2wd frame.   
Base Kit Includes:
-Pair of frame shackle mounts (1) LH & (1) RH in 3/8" A36 plate steel.  Grease zerk fitting in DOM tube.  Powdercoated black.
     Made for 3" wide bushings for a extra clearance outboard of frame.  1/8" washers supplied for outboard spring eye to = 3.00"
-(4) 1/2", 9/16" or 5/8" Grade 8 shackle pivot bolts (select size desired, but 1/2" held your truck up for 20+ years).  
       You can also run 9/16" or 5/8" in the shackle mounts while keeping 1/2" in the spring eye (requires you drill your shackles)
-(6) Grade 8 frame bolt options:
    a. 7/16" fit in orig holes without drilling (no taking parts off your truck to drill, 7/16 is working great for dozens of customers) 
    b. M12 (.46" diam) might fit tightly or require a couple holes be drilled out slightly
    c. 1/2" requires drilling for sure and removing parts to drill, so only suggested for frame off restoration or similar situation. 
-(4) high quality greasable poly bushings and (2) tough DOM bolt sleeves with good wall thickness for frame shackle mounts
   (Bushings are common and available for future replacement if needed)
-Written instructions provided
Optional*:
-(4) 3/8" thick 4" shackles with 1/2 or 9/16* holes* are optional. 
*If you choose 9/16" or 5/8" shackle option you will have to source your own SPRING bushings if you have springs with 1" ID spring eye & 9/16 or 5/8 bolt.  I can tell you where to get them.  But you will need to use a 3" wide bolt sleeve x .625 ID x .75 OD which I carry in stock.
  Feel free to contact archivegarage.com@gmail.com  or call/text 716-310-5281 (leave message).  I'm happy to explain any details.
2653700 
Reviews