Deaver Springs U539/540 HD Spring Under Axle 1 inch lift (pair) 2005+ Tacoma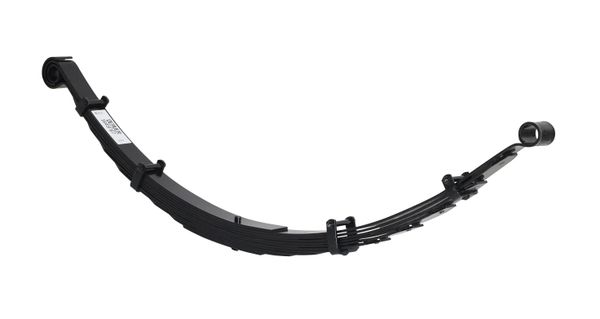 Deaver Springs U539/540 HD Spring Under Axle 1 inch lift (pair) 2005+ Tacoma
These are too stiff and high lift for Access cab unless you have 500lbs minimum over stock on the rear axle 
Shipping upcharged after sale.  Drop-shipping from Deaver costs to 48 US states starts at $80 and could be $150 or more to Northeast.  Shipping to Canada available for around $250, please contact for info.
Local pickup from Deaver in Santa Ana, CA is available at no charge.  The price includes FREE BUSHINGS. 
The Deaver Spring U539/540 spring under conversion packs are increased capacity springs, designed to support weight of a bed topper and steel bumpers, but does not ride too harsh when unloaded.  These fit in the stock hangers, but require a spring under conversion kit like this one >> SUA KIT  to install with perches welded under axle.  
This spring pack is an excellent choice to be used together with the Archive Hammer Hangers or even the Shackle flip, which provides lift.
Specs on U539/540 HD packs:
-Designed to handle considerable weight of shell, bumper, racks, sliders etc.  Definitely the right pack for an overland rig
- Approximately 1" lift with 500 lbs in bed 2005-2017 Double Cab Tacoma, my DCSB shows 2" lift at stock weight.
 (DCSB and DCLB are virtually the same, but the Access Cab will get MORE lift as the cab weighs less and CoG is forward)
-U539 is driver side, U540 is passenger side, which helps address the Taco lean 
-Capable of approximately 12"-13" travel with Hammer hangers or properly setup shackle flip.
-These packs are designed with a removable 3rd leaf (from the top).  This is advised on the Access Cab.  These HD packs are a good fit as is on Double cab when used with the shackle flip. 
Eric's review (2/15/2018):
I've had the U539/540 spring under conversion on my DCSB truck for several months with the Hammer hangers.  My DCSB got about 2" lift unloaded.  With 500lbs, lift is about 1", with 800lbs its about stock height, with 1000 lbs it was lower than stock, but I can say they handled the weight quite well.  Unloaded the ride is pretty firm due to being designed for weight, but not really harsh.  With some 300lbs added, the ride is very smooth and smaller bumps are no longer felt.  I plan to remove the 3rd leaf from the top as the ride is too firm without any weight for my taste, which makes sense because I'm not really using these springs as intended at stock weight.  
Reviews