Deaver Springs J59 Tacoma packs 1.5 inch lift (pair) 1998-2004 only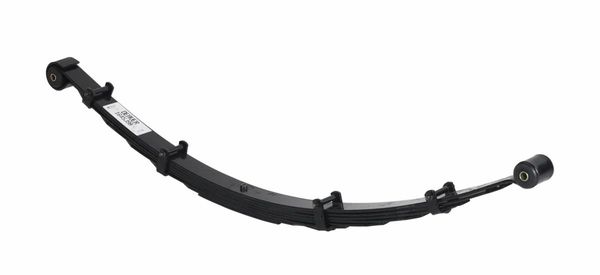 Deaver Springs J59 Tacoma packs 1.5 inch lift (pair) 1998-2004 only
Does not fit 1995-1997 Tacoma (shorter between hangers) Fits 1998-2004 1st gen Tacoma
Shipping upcharged after sale.  Drop-shipping from Deaver costs to 48 US states starts at $80 and could be $150 or more to Northeast.  Shipping to Canada available for around $250, please contact for info.

Local pickup from Deaver in Santa Ana, CA is available at no charge.  The price includes FREE BUSHINGS.
When you compare this spring design to stock or other brands, you'll notice the spring eyes are different than stock.  The front is a reverse eye, and the rear is an english eye.  This design means Deaver J59 are much less negatively arched at full bump.  Do not limit your bump travel with other springs, because bump travel is how a truck soaks up terrain and whoops.
Combine the design with superior ride quality, being made in USA from US 5160 steel, and you have a winning combination.
Reviews