Deaver Springs C27 SUA Long Travel Tundra 2000- 2006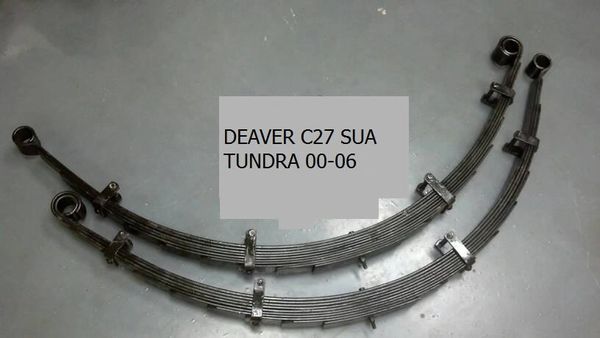 Deaver Springs C27 SUA Long Travel Tundra 2000- 2006
Lead time is currently 10 weeks minimum
The Deaver Spring C27 spring under conversion packs are designed to drastically increase wheel travel and provide a soft ride.
The price includes FREE BUSHINGS.
Lift over stock is about 0-1", depending on cab and shackle.  These fit in the stock hangers, but require a spring under conversion kit like this one >> SUA KIT.  
This spring pack is an excellent choice to be used together with the Archive Tundra 6" shackles and relocation brackets.  (Deaver recommends a longer shackle to prevent binding up during compression).  A 6" shackle will also reach farther forward to let C27's shrink up to free length for more droop (plus makes installing them easier).
C27 free length when curled up is 52-53" eye to eye.  Spring width is 2.25", a little narrower than stock, but Deaver has proper bushings to compensate (Archive includes bushings for free)
There is no cost to pick up from Deaver in Santa Ana, California

Drop-shipping from Deaver costs to 48 US states starts at $70 and could be $150 or more.
Shipping price will be upcharged after sale, or local pickup is available.  
Reviews