2000 - 2006 Toyota Tundra Shackle Flip Lift Kit 1st gen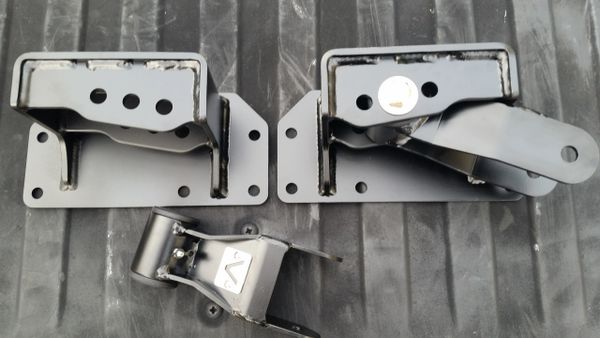 2000 - 2006 Toyota Tundra Shackle Flip Lift Kit 1st gen
Several kits of brackets are done, but need shackles done so 4 week lead. 
Please also check out the Archive: Overland Springs
FREE priority shipping to states, PR, Guam, Canadian customers please contact before buying, figure $60 extra (about 28lbs)
Your purchase supports a growing design and fab. business which helps us bring you new quality US made products. 

Customers are responding with appreciation for the quality, fit, performance and adjustability this kit provides.
SEANPISTOL: "Thanks to Eric for finally making something to get the most out of our first-gen Tundra rear ends!...that Archive Garage shackle flip had my locked rear end planted all day [at Moab-Hell's Revenge] and allowed me to take some harder and steeper lines"
http://www.expeditionportal.com/forum/threads/100994-seanpistol-s-01-Tundra/page28

http://www.expeditionportal.com/forum/threads/133068-*Rickashay-s-04-Tundra*-A-build-of-Compromises

Benefits: 
-Designed in 3D to perfectly match the taper angle of the Tundra frame rails and properly align with springs 
-Shackle angle changes the installed rate of spring in a beneficial way to increase side to side flexibility and ride comfort
-Contributes to a more compliant ride thanks to greaseable bushings and longer 6" shackles (50% longer than stock) 
-Your rear wheels will flex better, and have better droop travel when used with longer shocks (and brake lines).  
-Bracket allows adjustment to your desired shackle angle.  Stock length springs with 3-leaf AAL, foremost position is ~45deg, middle is about 30deg, and rearmost position gives about 10deg.   Deaver springs are longer than stock, and have more shackle angle.
-Estimated lift range with 6" shackle is 1.0" [25mm] to 1.25" [40mm], which depends on selected position and spring packs. 
-Stock springs (or stock with AAL installed) are showing about 10" of travel from bumpstop to full droop.  
-Archive Garage Overland Springs by Deaver are a great combo and be able to hold 1.5" lift from springs with 500lbs.

Premium Kit includes:
(1) Right hand & (1) Left hand bracket, laser cut and CNC bent 1/4" A36 structural domestic plate, MIG welded.  Powder coated!   
(2) Archive Fabricated 6" shackles made with 3/16 A572 HSLA 50ksi steel.  Supplied with quality greasable urethane bushings, DOM bushing sleeves, replaceable zerk grease fittings and caps installed in shackles.  
(4) 9/16" [14mm] Grade 8 shackle eye and leaf spring eye bolts, washers and hardened lock nuts
(10) M12 Class 10.9 (Grade 8 equiv) frame bolts, hardened washers, and all metal lock nuts supplied  
Designed with factory rivet bolt pattern, but requires drilling out factory rivets thru to ½" (See DBK-001) only $20
Requires trimming exhaust tailpipe!  

You are welcome to ask questions before ordering, please do so by email to archivegarage.com@gmail.com

Reviews