1995-2004 Tacoma Shock Relocation Towers 2.5 x 10 in or 12 in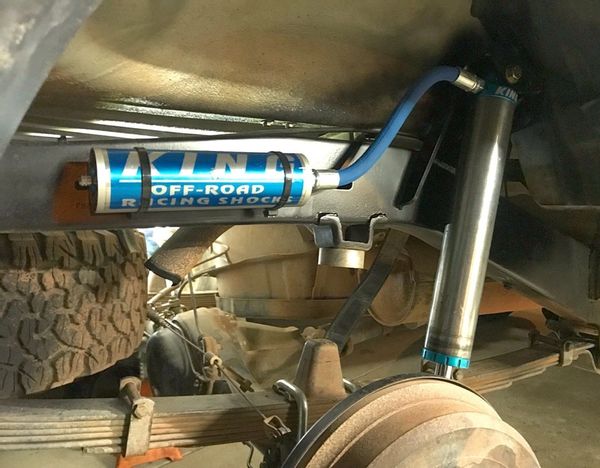 1995-2004 Tacoma Shock Relocation Towers 2.5 x 10 in or 12 in
Lead time 3 week minimum
This kit is for VERY WIDE rear setups, LOOK ELSEWHERE if you want stock width and don't want spacers.
This will definitely require wheel spacers and wheels with negative offset, (ex 3.5" BS wheel + 1.25" spacer minimum, or 4" BS wheel 2 2" spacer)
NOT a good idea if you run tire chains
Only shock design that fits is smooth body with remote reservoir, hose must exit perpendicular to the shaft like picture shows, such as standard with King and Fox

Message member ARCHIVE for $20 TacomaWorld discount 

This kit is now installed on 2 vehicles and working well, and a couple more are in progress
Archive Garage is working with several owners on testing a shock relocation kit for the 1st gen Tacoma to fit 2.5" x 10", 2.5" x 12", or 2.0" x 12" racing shocks in the wheel wells outboard of the frame rails.  This will allow fitment of longer travel high end shocks, and mounting the shocks outboard will result in better handling and stability.  Definitely requires wheel spacers and  negative offset.
STAY TUNED and read the TacomaWorld thread here--> 1st Gen Shock Relocation
Reviews